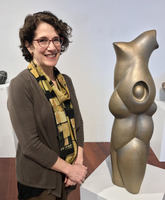 ELLEN SCHŐN is Adjunct Faculty in Fine Arts and Ceramics Studio Supervisor at Lesley University College of Art and Design in Cambridge, Massachusetts, where she has taught ceramics and 3-D courses since 2002. Schön received a BA from Marlboro College (Ceramics and Perceptual Psychology) and an MFA in Ceramics from Boston University's Program in Artisanry. She has exhibited in numerous shows in the United States and is a past recipient of The Artist Foundation Fellowship from the Massachusetts Council on the Arts and Humanities.
Schön
was an Artist Fellow at the St. Botolph Club, a Boston institution that supports the arts and humanities, and is a member of the Boston Sculptors Gallery.
Schön has organized and co-curated interdisciplinary, thematic group exhibitions in non-profit venues in the Boston area and abroad
.
Her interest in international artist collaboration and exchange has led her to travel extensively, participating in international artist symposia/residencies in Finland, Croatia, Hungary, Turkey, Israel, Germany, and Malaysia. Schön has been a member of the European Artists Association since 2011. Her work is in the permanent collections of the Museum of fine Arts, Boston and the Fuller Craft Museum in Brockton, MA.